Hapsford Hydro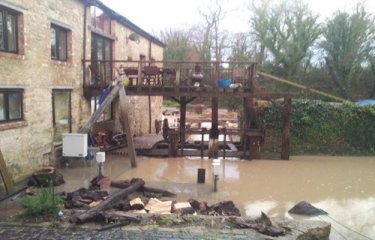 Energy-saving improvements
Renewables: electricity
Location
Hapsford Mill, Hapsford Hill
Great Elm
Frome
Somerset
BA11 3NN
Opening times
17 - 18 Oct 2015
Tours at 11.00 and 13.00
Saturday 17th October
Booking essential. Please arrive 10 minutes before tour start time.
This event has now finished.
Book ahead https://www.eventbrite.co.uk/e/frome-open-homes-hapsford-hydro-tickets-18530157199
'We're powering the whole of Great Elm!'
Before moving to the stables, Raj and his family lived in an old listed property a stone's throw from their new eco pad. Whilst Raj was limited in what he could do in that house, he decided to install a micro-hydro system in a neighbouring old mill site. Hapsford hydro now generates enough to power 120 homes; with 2500 litres passing through the system every second! Darren Brown installed and co-owns the system and lives in the converted mill.
WHAT YOU WILL SEE
An amazing micro-hydro system
Location
Hapsford Mill, Hapsford Hill
Great Elm
Frome
Somerset
BA11 3NN
Opening times
This event has now finished.
Other homes nearby